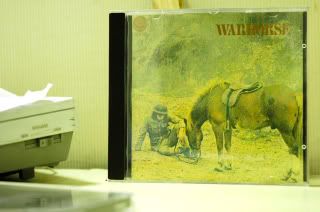 Warhorse, the missing link of music craft between Deep Purple and Black Sabbath!!! Salah satu band rilisan Vertigo, sebuah label prog rock legendaris Inggris era '60-an, tempat bernaungnya band-band pengusung musik berisik seperti Black Sabbath, Gentle Giant, atau Cressida. Terbentuk pada tahun 1970 oleh lima musisi berbakat, Ashley Holt (vokal), Nick Simper (gitar bas, eks Deep Purple), Ged Peck (gitar), Mac Poole (drum) dan Frank Wilson (kibor, organ Hammond). Mereka sepakat untuk memilih nama band yang terasa suram, Warhorse.

Di album studio pertama yang berjudul sama ini, Warhorse bak sebuah dinamo yang kelebihan arus listrik dengan memainkan heavy violent hard rock. Keseluruhan materi di album ini begitu dinamis, dipadu dengan nuansa progresif kelam, menjadikan album ini a mixture of bands like Deep Purple, Black Sabbath, Uriah Heep dan Yes.

Tidak dipungkiri, nyawa 'Kuda Perang' ini ada pada permainan Hammond yang brilian dari Frank Wilson. Sangat klasikal katedral namun beraura prog kelam. Tak ketinggalan vokal garang nan agresif dari Ashley Holt, serta cabikan bass Nick Simper yang bertanggung jawab membuat Warhorse kerap disamakan dengan Deep Purple.

"Vulture Blood" menjadi lagu pembuka album. Dimulai dengan intro organ bernuansa kelam, lalu disambung dengan suara Ashley Holt yang terdengar intimidatif dan penuh energi. Lagu lainnya, "No Chance" dan "Solitude" merupakan implementasi hard rock progresif beraroma balada ala Warhorse. Kemudian lagu "St. Louis", yang aslinya milik The Easybeats, dibawakan dengan lebih kencang dan dinamis dari versi sebelumnya. Lagu lainnya, "Ritual", tampak terdengar seperti materi b-sides versi Deep Purple. Sedangkan di track "Burning" dan "Woman of the Devil", identitas musik dan lirik Warhorse terpapar jelas dengan iringan teknik harmoni klasikal dari gitar Ged Peck, sumber aliran darah dari Warhorse. Gebukan drum dahsyat Mac Poole sukses menjaga stabilitas ketujuh lagu di album ini.

Di label Vertigo, band ini hanya berhasil merilis dua buah album, Warhorse dan Red Sea, sebelum akhirnya bubar. Timing yang tidak tepat, kurangnya promosi, serta hantaman konflik internal dengan sang label membuat Warhorse gagal menyamai popularitas serta reputasi Deep Purple dan Black Sabbath. Mereka pun akhirnya harus rela hanya menyandang status sebagai one of the great lost '70s band. Jika ingin menyimak sebuah artifak bersejarah dari band hebat namun teralienasi oleh gegap gempita stardom of hard rock bands in '70s, maka album ini sangat layak dinikmati. The Drowner

Hint: LP orisinil rilisan Vertigo UK (swirl label) dari Warhorse merupakan salah satu item langka yang paling banyak dicari oleh para kolektor penggila piringan hitam.

Source: Beli di Duta Suara Sabang pada saat cd rilisan Repertoire Records sedang membanjiri etalase beberapa record stores many years ago. Rilisan pertama reissue!