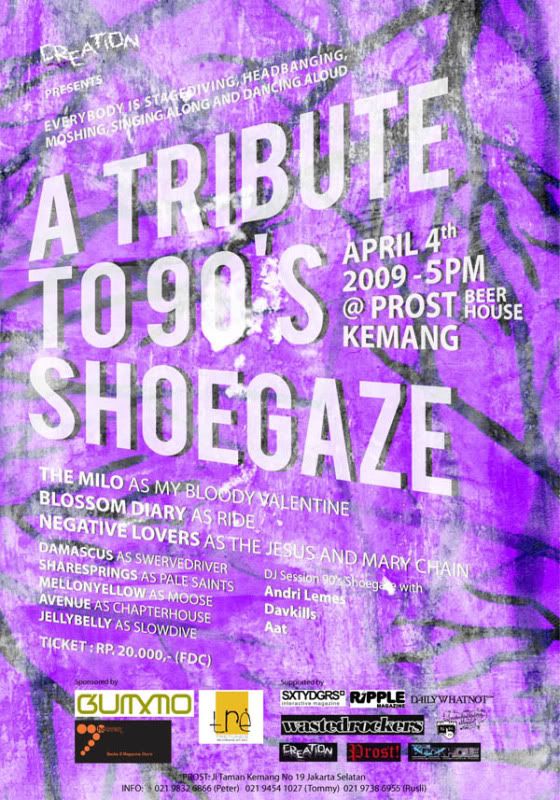 Saatnya mengenang kembali era sejati dari genre Shoegaze, a time when cool band t-shirts, sneakers, stagediving, headbanging, moshin, singing along and dancing aloud became a holy rites and romanticsm in the old days. 
...dan semuanya itu terjadi secara magis dalam satu malam, penuh cobaan dan drama, dalam sebuah acara sold out (betul-betul di luar dugaan). Delapan band shoegaze lokal dari Jakarta dan Bandung, mempersembahkan sebuah penghormatan luar biasa terhadap delapan band 90's shoegaze lawas, dengan sebuah kegairahan yang tampaknya bakal sulit ditemui di berbagai acara sejenis ditempat lain.
Ribuan kata mungkin tak cukup untuk diilustrasikan di blog ini, pastinya hampir lebih dari 450 orang (bisa lebih) nekat berdesak-desakan di Prost Beer House, menikmati hantaman fuzz dan reverb, serta bernostalgia lewat aksi band-band, mulai dari Sharespring, Damascus, Avenue, Mellon Yellow, Jellybelly, Blossom Diary, Negative Lovers, dan Themilo. Ditemani dj set track-track shoegaze oleh DJ Davkills, DJ Aat dan DJ The Drowners, dan semuanya yang hadir sangat menikmati malam itu. 
Well, it was so Cool as Fuck for us! Our blog supported the event, and kami menjadi salah satu saksi betapa Shoegaze hadir dengan atmosfir sejatinya, just like in the 90's dude, seperti tagline di atas, no pretentious, just a fucking real spirit there! So, kami ingin berbagi link live video acara tersebut dari sebagian band di Tribute to 90's Shoegaze, yakni, Themilo, Avenue, dan Damascus. Selain itu kami juga memperoleh ijin dari Ajie Gergajie untuk memberikan akses bagi siapapun untuk mengunduh mp3 Themilo - When You Sleep (an MBV Cover at Tribute to 90's Shoegaze).
So, nikmatilah bagaimana magisnya acara tersebut di video live tersebut...for real.
mp3 Themilo - When You Sleep (an MBV Cover at Tribute to 90's Shoegaze)
Themilo as MBV - When You Sleep
Damascus as Swervedriver - Duel
Avenue as Chapterhouse - Breather
the drowner, marr, and clockender