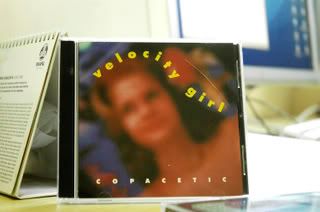 Okay, let me go straight, so there will be no band called Cherry Bombshell if Gergaji or Pecunk (two founder of this band from Bandung) never notice this band! Yep, it's true. Siapapun yang telah mendengarkan isi album debut resmi mereka ini di label Sub Pop bakal berkata sama. Velocity Girl memadukan aura sonik dari scene shoegaze di Inggris dengan sisi melodik dari alternatif indie pop, an approach which by para kritikus melabelinya sebagai 'bubblegrunge' (hah?). Toh, Velocity Girl menjadi salah satu band AS tersukses dan banyak dibicarakan di scene indie rock UK dan AS pada era '90-an.

Berdiri di Silver Spring, MD pada bulan September 1988, band ini diperkuat oleh Sarah Shannon (vokal) Archie Moore (gitaris, vokal), Kelly Riles (basis), John Barnett (gitaris), dan Berny Grindel (drum). Album Copacetic bisa disebut sebagai salah satu album terbaik dari scene indie di AS. Vokal Sarah Shannon yang girlie dan manis bersanding dengan fuzzy sounds dari Archie dan Barnett. Begitu berwarna materi album ini, tak hanya khas white noise fuzz seperti lagu populer mereka di album ini "Crazy Town" atau "A Chang", tetapi juga variatif seperti college pop, indie rada jangly seperti "Audrey's Eyes".

Dirilis pada tahun 1993, penempatan materi lagu di Copacetic tak bisa ditebak, suatu saat berada di sebuah track lagu yang indie stuff, tiba-tiba di lagu berikutnya yang berasa fuzzy indie psikedelik, dan tiba-tiba muncul lagu up-tempo dan kemudian dreamy. Tetapi 'kekacauan' ini justru menjadi artistik dan menarik sekali. Album Copacetic jelas menjadi sebuah debut seru dari Velocity Girl.

Berkat dua singel "Crazy Town" dan "Audrey's Eyes" di album ini, Velocity Girl menjadi salah satu band yang mengangkat image label Sub Pop dari sekadar label band grunge saja. Ketika Copacetic dirilis, penjualannya bahkan yang menjadi yang terbesar kedua dalam sejarah label tersebut, setelah album Bleach-nya Nirvana. Marr
Hints: Nama band ini diambil dari judul lagu Primal Scream berjudul sama, "Velocity Girl".
Rolling Stone (6/10/93, p.71) - 3.5 Stars - Very Good - "...haunting yet hummable noise pop...vocalist Sarah Shannon's willowy soprano dominates COPACETIC's sound..."

Source: Setelah disuruh lihat oleh Mr. Reza Ansel di youtube.com videoklip "Crazy Town". Darn, this band is totally so good! On the next day, i quickly ordered it from eBay, with a cheap price also.