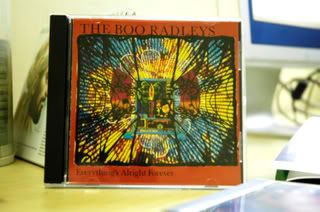 First of all, no one will argue how brilliant Alan McGee's sense of music was, with his label Creation Records. Pria Glaswegian ini diberkahi sebuah intuisi ajaib mana kala ia berhasil merekrut band-band luar biasa di wilayah Britania pada era tahun '90-an di labelnya. Dan Boo Radleys, merupakan salah satu dari many of hidden gems yang berhasil ia temukan dan menjadi salah satu band sophisticated di Inggris.

Berdiri tahun 1988, sebuah masa ketika shoegaze mulai menghantui telinga para remaja di Inggris, Boo Radleys diperkuat Sice (vokal, gitar) Martin Carr (gitar, vokal latar), Timothy Brown (gitar bas), dan Rob Cieka (drum). Mereka termasuk salah satu dari band-band yang menggairahkan kembali esensi noise, reverb dan fuzz menjadi sebuah psychedelic trance pop yang oleh para kritikus musik UK disebut sebagai shoegaze.

Dibuka oleh "Spaniard" dengan alunan trumpet mengugah hati, album kedua mereka bertitel Everything's Alright Forever, tampak jelas sekali pengaruh dari rekan satu label mereka MBV. Namun mereka berempat dapat menyajikannya dengan cara mereka sendiri, lewat hooks dan riffs yang segar namun tetap terasa gazey, serta materi lagu-lagu with tons of cool as fuck indies-gazeness beats. Tentu dengan senjata utama tetap tsunami pedal fuzz as the main dessert.

Fuzzy guitar driven dari Sice dan Martin Carr menjadi atsmosfir yang pekat dari album ini. Coba dengarkan lagu "Lazy Day", sebuah materi berdurasi pendek dengan gelombang tsunami fuzz yang dicegat vokal merdu secara mendadak diiringi alunan akustik mencerahkan hati. Belum lagi tekstur hantaman tsunami fuzz yang tertata begitu teratur dan apik di "Smile Fades Fast" dan "Skyscraper", siap menyejukkan hati siapapun yang mendengarnya. Vokal halus dan merdu ala choirboy at church dari Sice menjadi senjata rahasia yang menghanyutkan, terutama di lagu jagoan album ini, "Does This Hurt".

Ketika shoegaze akhirnya tergusur oleh Suede dan Pulp, di album-album selanjutnya, start from album keempat mereka, Wake Up Boo!, Boo Radleys akhirnya harus beradaptasi dengan Britpop, dan berhasil survive dari transformasi musik yang mereka lakukan. Namun album kedua mereka ini bisa disebut sebagai one of most important footprints in ups and downs of shoegaze saga in UK. Begitu berharga dan antik tentunya. Marr

4 Stars - Excellent - ...a dizzy digest of everything cool that can be done with a guitar...should be taken as seriously as recent albums by Ride and My Bloody Valentine...
Q (05/01/1992)

Source: I bought it on eBay with very cheap price! So lucky, ha ha...