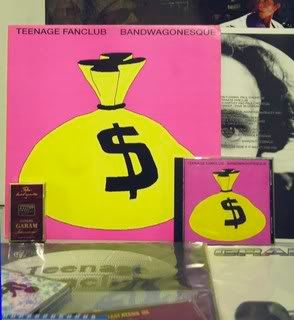 Sebuah sore di awal tahun 2009, Mr. The Drowner membawa sebuah cd album yang sempat membuat kedua mata saya sedikit berkaca-kaca. Sampulnya tumpul, picisan dan menyilaukan (bak perpaduan Andy Warhol dan Gober Bebek) namun memiliki tempat cukup spesial di hati saya. Seketika ingatan pun kembali ke masa SMP. Memutar kembali perasaan seorang anak kelas 3 yang amat menggilai musik '60-an di awal tahun '90-an. Nyaris tak memiliki teman tuk berbagi hasrat musikal, karena saat itu hampir semua dari mereka menggilai thrash metal atau setidaknya punk rock. Saat itu Nirvana baru saja berlabuh di pantai, belum turun ke pusat kota.
Di tahun 1990/91, TVRI Programa 2 pernah menyiarkan sebuah acara musik Barat (di mana saya lupa namanya) yang cukup maju pada setiap hari Minggu sore. Tiap tiga minggu sekali, acara tersebut menampilkan segmen indie-chart, di mana kita bisa menyaksikan banyak cuplikan klip dari aksi-aksi grup musik seperti Happy Mondays, Bridewell Taxis, Ride, Inspiral Carpets, Swervedriver, Pulp dan Butthole Surfers. Dari acara inilah saya mengenal band bernama Teenage Fanclub. Saya amat menggilai sebuah lagu mereka di tangga lagu segmen tersebut, "God Knows It's True", single legendaris yang nyaris mustahil didapatkan di toko-toko rekaman di Jakarta. Teenage Fanclub, serta band-band lain yang tampil di segmen itu rata-rata menawarkan pendekatan musikal bernafaskan '60-an. Sebuah alasan mutlak bagi saya untuk menyukai mereka. Sebuah penerbangan baru yang akhirnya dapat saya nikmati perjalanannya. Tidak seperti grindcore ataupun death metal, yang digilai oleh teman-teman setongkrongan saya.
Album Bandwagonesque ini adalah rekaman Teenage Fanclub pertama saya, sekaligus debut rilis Teenage Fanclub yang beredar di Indonesia. Saya membelinya di sebuah toko kaset di Jakarta Selatan pada awal tahun 1992, ketika masih di kelas 3 SMP, sedang menyukai Nirvana. Ketika itu pun saya sudah merasa yakin album ini bisa beredar di Indonesia sebagai imbas meledaknya album Nevermind beserta trend grunge-nya. Bahkan seorang Kurt Cobain menggemari sajian perpaduan musik power pop Beatlesque, permen karet, dan agresi punk rock yang ditawarkan Teenage Fanclub. Ia sampai mendeklarasikan grup asal Skotlandia itu sebagai band terbaik di dunia. Majalah Spin pun menjadikan Bandwagonesque sebagai album of the year untuk tahun 1991, menyingkirkan Nevermind!!

Bandwagonesque sebuah album klasik power pop '90-an. Bongkahan emas pop berjejalan dalam wujud "What You Do to Me", "Metal Baby", ataupun "December". Neil Young, harmoni the Byrds/Beach Boys, alkohol, serta lirik yang mereferensikan Status Quo, menjadi jejak-jejak inti yang hadir pada aneka kidung legendaris seperti "Alcoholiday", "The Concept" maupun "Star Sign".

Album yang dirilis tahun 1991 ini cukup memberikan pencerahan penuh arti, menuntun saya pada Big Star, pahlawan sejak SMA. Setelah the Beatles, album inilah yang menjelaskan kepada saya bahwa musik pop yang baik ternyata tidak harus susah. Bayangkan, hampir semua lagu di album ini memiliki progresi akor yang sama, dibolak-balik agar terdengar berbeda. Sound-nya pun telanjang, tidak pretentious, gamblang, seperti sampul albumnya. Sampai-sampai banyak teman saya, yang merupakan penggemar punk rock yang turut kepincut oleh Nirvana, akhirnya bisa menjadikan lagu-lagu di Bandwagonesque sebagai musik pengiring kala bermain papan luncur ekstrem! Clockender
Spin (12/91) - Highly Recommended - "..this music makes your spine shiverGod's gift to college radio...Equal parts Neil Young, Big Star, Rolling Stones, Lindsey Buckingham, and Eddie Money..." - Ranked #1 in Spin's list of the 20 Albums Of The Year (1991) - "...this record would be hard to equal in any year. Rock music doesn't get much better than this."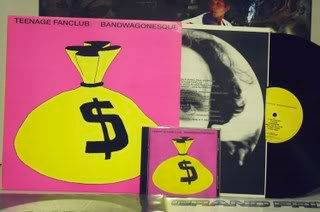 Source: (foto LP Bandwagonesque) Beli di eBay tahun 2001, US$18, lumayan, hehe… Untuk foto rilisan cd berasal dari koleksi the Drowner. They're all Creation originals...