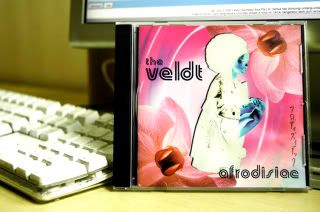 Have you ever seen a black guy playing a Fender Jaguar? With lots of atmospheric delays and stuffs? Well, I believe not in a million :D. So, semua bermula ketika seorang teman saya menyuruh untuk mengecek di youtube.com, sebuah videoklip dari band bernama The Veldt, judulnya "Soul in a Jar". Terkagum pada aksi gitaris band ini, berlanjutlah dengan perkenalan pada sebuah kaset tua The Veldt rilisan lokal, berjudul album Afrodisiac. Lalu berlanjut dengan sesegera mungkin memesan cd album ini yang terserak di eBay.com. Hasilnya, darn! this band really amazed me in many ways!

Why? Well, this is a band consists of three black guys, plus a caucasian; lalu mereka memainkan musik shoegaze dengan sentuhan dream pop khas Cocteau Twins yang berhiaskan buaian delay dan reverb, namun dengan energi atau passion yang begitu berbeda sekali dengan band lain sejenisnya. Ibaratnya, it's like hearing a black music, but in a different texture or form, totally intriguing and tantalizing! Like a black shoegaze, i guess, full of soul and beats.

Apalagi yang lebih alami dan memang pada kodratnya ketika orang kulit hitam memainkan sebuah musik rock n roll? Memadukan sentuhan musik khas A.R. Kane dan Cocteau Twins dengan permainan gitar khas Robin Guthrie, namun bisa sedikit agresif, simaklah band bernama The Veldt ini. Turut dipengaruhi oleh band-band seperti Echo & the Bunnymen, Jimi Hendrix dan Prince, band asal North Carolina ini menyajikan lantunan lirik yang tampak begitu ekspresif, jelas dan bersemangat. Tak seperti band-band sejenisnya yang ketika itu justru lebih memilih menenggelamkan vokal mereka di bawah dominasi eksplorasi gitar.

Didirikan pada tahun 1986 oleh sang vokalis Daniel Chavis dan adiknya, Danny Chavis (gitaris). Dua tahun berikutnya, kakak beradik ini mencari personil tambahan, masuklah Martin Levi (drum), dan Dave Burris (gitar bas). Setelah sebelumnya meluncurkan EP Marigolds, pada tahun 1992 di label Stardog/Mammoth, The Veldt berhasil masuk dapur rekaman di label Mercury, merilis Afrodisiac, sebuah album alternative yang bagi saya tampak begitu apik, sempurna dan meyakinkan.

Afrodisiac dimulai dengan sebuah intro manis kurang dari dua menit, "Intro (I'll Say Anything)" begitu soulful dan berbau Motown, di mana Daniel bersama seorang wanita Afro saling bertukar kata cinta. Selanjutnya beberapa lagu menarik seperti "Soul in a Jar," "Until You're Forever," dan "Wanna Be Where You Are" patut disimak dengan penuh seksama, dan ternyata shoegaze tak harus galau, tapi bisa penuh passion dan gairah. Belum lagi terpananya saya pada "Revolutionary Sister", sebuah materi yang sangat luar biasa liriknya, penuh dengan semangat politisasi gender, dinyanyikan dengan lantang, diiringi sahutan manis gadis Afro yang progresif. Tak hanya itu, Robin Guthrie mengkontribusikan permainan gitarnya pada akhir album Afrodisiac, "Outro (Shaved)". The Jesus and Mary Chain juga membantu dengan me-remix "Soul in a Jar", meski tidak terlalu istimewa hasilnya. But overall, this album really pleased me, really dreamy and gazy, it's like having a gorgeous brown sugar chick on your bed... Yeah! You got soul! Marr

PS: Frankly, guys, donlotan album Afrodisiac dari The Veldt ini bisa disebut satu-satunya yang ada di internet, bahkan di blog shoegazeralive pun belum pernah ada yang upload! So, lucky you!
Source: Cd ini adalah pembelian perdana saya melalui sindikasi perdagangan maya via eBay.com dengan pembayaran melalui paypal.com. Hohoho, senangnya!