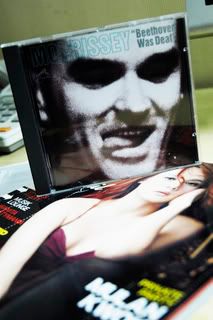 M-o-r-r-i-s-s-e-y, hmm... What else can I say? He's a living icon for everyone who knew his presence since the Smiths era. Lirik puitisnya telah menjadi wahana kontemplasi bagi setiap orang yang merasa terasingkan dalam cinta, hidup, pilihan dan sosial; seorang legenda hidup pop rock di Britania Raya yang begitu dipuja oleh para pencintanya yang militan hingga mengkultuskan secara fanatik. Dan saya termasuk orang yang memilih untuk memujanya pula meski secara waras tentu berusaha mengerem kegilaan dan rasa 'jatuh cinta' saya terhadapnya agar tidak kelewat batas atas aqidah saya sebagai seorang muslim yang beriman. But i could faint or cry if he willing to play in Indonesia one day, i build a tent at the venue or his hotel, or even ambush him at Cengkareng, hahaha...
Back to the issue, cd live Morrissey berjudul Beethoven was Deaf ini memiliki kesan tersendiri bagi saya. Perkenalan pertama saya dengan beliau awalnya justru dari sebuah kaset lokal Beethoven was Deaf milik teman saya. So, bisa dikatakan, jatuh cinta saya pada Morrissey justru ketika mendengarnya secara live, bukan dari katalog album studionya. Betapa energi dari live Morrissey di album live yang mengambil tempat di The Zenith, kota Paris pada tanggal 22 Desember 1992 di hadapan 6,500 orang, benar-benar membuat saya terpana, termangu, dan perasaan yang campur aduk. Anehnya, saya bahkan belum pernah melihat secara visual baik dari rekaman vcd atau video, tetapi justru rekaman audio dari sebuah kaset saja. Keriuhan penonton, interaksi Morrissey kepada mereka, sahutan memuja, serta energi dari lagu, musik dan performa live yang mengesankan di album live ini, seperti menyeret saya ke momen itu.
Perkenalan pertama saya ini akhirnya memang membuat saya menjadi one in a million of his huge fanbase di dunia fana ini. 16 lagu diusung Morrissey dan band pengiringnya dalam album live Beethoven was Deaf. Materi-materi klasik (mayoritas dari album Your Arsenal) seperti "You're the One for Me, Fatty", "Suedehead", "Certain People I Know", "Sister I'm a Poet", "We Hate It When Our Friends Become Successful" hingga "November Spawned a Monster", dibawakan dengan energi yang sedikit berbeda ketimbang versi album studionya, yah, sedikit berbeda, tentu karena merupakan versi live-nya ("Suedehead" di album ini bahkan menjadi nge-rock full distortion). Tetapi dukungan band pengiring Morrissey (Alain Whyte - gitar, Boz Boorer - gitar, Gary Day - gitar bas, Spencer Cobrin - drum) yang sangat pseudo-rockabilly, membuat lagu-lagu di album ini menjadi begitu bertenaga, solid, dan penuh warna. Pilihan saya adalah di lagu "Jack the Ripper", dimana kocokan gitar flanger dari Alain Whyte, lalu ritem gitar Boz Boorer, ditambah begitu rapihnya Cobrin memukul drum di semua lagu, membuat lagu ini menjadi salah satu lagu live dari Morrissey paling keren sepanjang karirnya. Jangan lewatkan, "National Front Disco", sebuah lagu nasionalistik yang kontroversial oleh Moz, menjadi sangat tight dan kuat, terutama di bagian ending lagu dimana Boz Boorer dan Alan Whyte melakukan eksplorasi keberisikan tingkat tinggi selama lebih dari tiga menit bak sebuah noise pop yang sangat maskulin sekali.
Beethoven was Deaf akhirnya banyak memberikan saya perspektif terhadap solo karir Morrissey. Salah satunya, setelah The Smiths dipensiunkan di mana Morrissey kehilangan seorang gitaris sekelas Johnny Marr dan pemain bas sebrilian Andy Rourke, akhirnya ia memperoleh seorang songwriter yang tidak kalah cerdasnya, seperti Alain Whyte; basis se-rockabilly dan ganteng seperti Gary Day dengan segala tato keren di sekujur tubuhnya; teman kerja setia seperti Boz Boorer, hingga seorang penabuh drum jago yang juga pintar membuat lagu (lagu b-side "Lost") seperti Spencer Cobrin (you should listen to his solo materials on his myspace.com site or album on Elva Snow, he's good!). Actually formasi band pengiring pada era tersebut merupakan formasi terkeren dan paling saya sukai dari seluruh formasi band pengiring Morrissey selama ini. They're not a replica of The Smiths, but they played more exciting and intense. Dan bagi saya, Beethoven was Deaf seperti sebuah monumen dari salah satu era terbaik dalam solo karir Morrissey yang tidak boleh dilewatkan oleh setiap diehard fans of Moz, seperti saya ini, termasuk anda tentunya, hehehe... Marr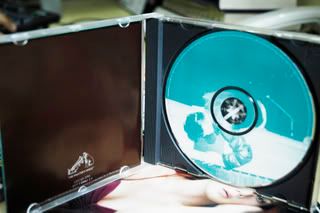 Source: Di sebuah hari kerja selepas liputan di PBNU di bulan Januari 2009 di Jalan Surabaya, terpaksa melanggar sumpah Pramuka untuk berpuasa dulu membeli cd, hahaha!