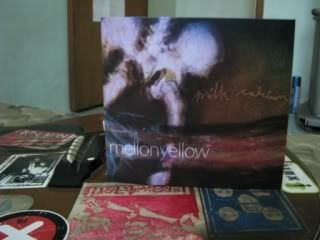 Satu hal kenapa saya selalu bilang bahwa the real essence of shoegaze genre was the 90's era, adalah karena only on that period lived dozens of bands with sophisticated sounds and music. Band-band seperti MBV, Ride, Moose, Catherine Wheel, Boo Radleys, Swervedriver, dan masih banyak lagi, mempersembahkan kejeniusan mereka dalam khasanah kultur musik alternatif 90's. Lagu-lagu mereka seperti sebuah anomali pakem musik indie di Inggris pada era 90-an.
Anggapan yang kerap beredar saat ini ketika shoegaze diterjemahkan sebagai gudangnya band-band ethereal, berdelay ria ala Cocteau Twins atau Slowdive, bernuansa galau ala Sigur Ros, dan sebagainya. Well, shoegaze lebih dari sekadar hal-hal diatas.
Shoegaze adalah a passion, hasrat, seperti yang dialami para anak-anak muda di era 90's yang terbenam dengan band-band seperti Nirvana, Sonic Youth atau Jesus and Mary Chain. Ia bukanlah musik kontemplatif seperti post rock. It's totally an alternative music, man! It will drives you for a stagediving or just jumpin around when you're on a show. Singing along and screamin for more.
Rasanya hal-hal ini akan segera ditawarkan oleh Mellon Yellow melalui rilisan EP pertama mereka berjudul Milk Calcium. Betul-betul sebuah EP yang sangat menarik sekali. It's soooo 90's, they capture it really bloody fukkin cool. I mean, hearing this EP, its like transport you for a time travel into days where Bilinda Buthcer fell in love with Kevin Shields! Yes guys, keempat lagu yang ada di EP ini memang berkiblat kepada warna shoegaze di era 90's.
Terkadang ada band yang mirip seratus persen dengan sebuah band tertentu, tapi di EP Milk Calcium, saya tak bisa menemui sebuah kemiripan pada band tertentu. Jangan keburu berasumsi karena nama band ini dari sebuah lagu Slowdive lalu berpikir bakal serupa. Ngedengerin album mini ini bakal diajak bertamasya pada band-band spesial yang mempengaruhi mereka. Sebut saja, Catherine Wheel, Boo Radleys, Drop Nineteens, Ride, Moose, hingga MBV.
Keempat track di EP yakni The Longest Yard, Less Turtle in the Day, Milk Calcium, dan Kevin. Kesan pertama, hasil rekaman yang sangat tight dan rapi. Keempat materi lagu dari mereka pun atraktif dan bisa menjadi pengantar yang sempurna bagi yang ingin mencicipi seperti apa sensasi shoegaze era 90's. Dari keempat lagu, ada dua materi yang bikin saya betul-betul kesengsem dengan EP ini, yakni the Longest Yard dan Milk Calcium.
Untuk the Longest Yard, mungkin bisa dilihat review saya di posting sebelumnya tentang satu lagu teaser EP mereka di blog ini. Khusus untuk Milk Calcium, (dimana saya saat menulis lagi mendengarkannya) betul-betul lagu yang bener-bener ajib! It got the 90's spirit, begitu alternatif sekali dan pastinya bisa bikin para penonton berjingkrak, stagediving, dan tentunya headbanging just like in the ol' time. Saya seperti diajak ngintip bagaimana Rob Dickinson dan gengnya di Catherine Wheel, aksi Sice masih berambut bersama Boo Radleys, Adam Franklin masih gimbal dengan Swervedriver hingga melihat Noel Gallagher bersama Oasis. Tentunya ini imajinasi saya saja ketika mendengarkan lagu ini.
Sementara itu, di dua lagu lainnya, Less Turtle in The Day, dan Kevin, juga kuat dari musik dan songwriting. Karakter shoegaze gelombang kedua yang digebrak melalui album Loveless-nya MBV bener-bener kentara dan kental sekali. Racikannya pun asyik dan penuh layers guitar driven dari ketiga gitaris Mellon Yellow tampaknya bisa berkomunikasi dengan baik melalui persenjataan efek mereka masing-masing.

Hanya saja, setelah rembugan dengan mr. The Drowner tentang album mereka, tentu ada hal-hal yang patut dikritisi. Khususnya pada wilayah perkusi alias drum dan bass yang terkesan kok terlalu main safe atau nurut banget. Lebih khusus kepada wilayah drum, entah apa karena kondisi take di studio atau apa, drumnya terlalu biasa saja. Padahal seharusnya bisa lebih eksploratif dan berwarna, jika mengambil contoh bagaimana liarnya Loz Colbert di album-album shoegaze Ride atau Colm O'coisog yang meski sederhana tetapi rusuh banget. Pada wilayah bass pun justru tak banyak dinamisasi yang bikin lagu-lagu di EP ini menjadi penuh tekstur dan berwarna. Harapan kami jika ini dianggap sebagai sebuah singel, maka untuk proses pengerjaan album penuh harus diperhatikan kedua hal ini. Istilahnya, shoegaze itu juga haruslah bermain penuh resiko dan tidak selalu harus bermain di wilayah aman saja.


Pastinya band ini bakal menjadi sebuah sampel pergerakan band-band shoegaze di
Jakarta
yang menampilkan alternatif yang spesial kepada ranah scene lokal. Lebih fuzzier dan colorful. The best thing happen from
Jakarta
bisa saja terjadi since Sugarstar! Trust me, dudes! Overall, this album really amazed me, in a fukkin good way!
Marr