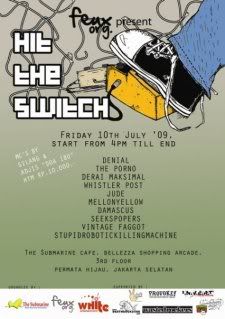 Satu hal yang paling dicari dari sebuah acara musik tentu suguhan band-band menarik, beragam, dan artistik. Lemah konsep acara bisa blunder, seperti even Whatever Sounds. List band yang cukup baik (with Monkey to Millionaire as the headliner), namun nama acara yang tak cerdik (whatever sounds?) lalu sepi pengunjung berujung molor waktu acara, meski bertiket IDR10.000 (u can't find a gig with these kind ticket price); hasilnya acara tersebut malah tak mengigit.
Berkaca dari acara lalu, acara Hit the Switch! seharusnya menjadi pengobat kegagalan acara sebelumnya. Berbekal list band yang lebih tight, such as Denial, The Porno (namun batal karena kesibukan vokalis mereka), Derai Maksimal, Mellon Yellow, Jude, Whistler Post, hingga Damascus, membuat acara ini lebih colorful dan serius. Dan sekali lagi dengan harga tiket begitu bersahabat, IDR10.000, untuk sebuah acara alternative underground dengan band-band yang serius.
Namun, badly, sekali lagi sepi pengunjung, padahal Hit the Switch! menawarkan sebuah acara menarik kepada para pengunjung yang datang, termasuk rekan saya yang rela jauh-jauh mampir dari Yogyakarta, demi memastikan sensasi esensi band-band Jakarta yang cenderung noise fetisher. Sebuah acara keren menurut saya, namun minim pengunjung, entah kenapa, akhirnya saya berasumsi bahwa jauhnya letak Submarine yang berada di sekitar Jakarta Barat, Permata Hijau, menjadi kendala utama. Setau saya, sedikitnya rute bis melintas, meski ada jalur halte busway di depan Belleza.
Hit the Switch! dimulai dengan sehat, berikut band-band menarik lainnya, meski saya baru datang pada saat sebuah band blues rock bernama Jude beraksi. Great tunes, plus riff-riff blues menghangati suasana Submarine. Tak lama Whistler Post tampil, salah satu band yang saya nantikan, karena penasaran seperti apa live band yang digawangi Tania Clover dan Hans ini. Mellon Yellow pun menyusul pada line up berikutnya, salah satu band Shoegaze dari Jakarta yang berkiblat pada sentuhan era 90's Shoegaze. 'Kevin', dan beberapa materi dibawakan, too bad, 'May Day', tak dibawakan, padahal itu fave saya.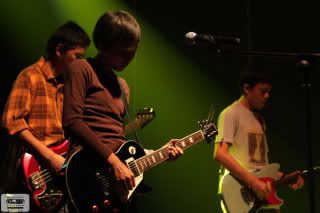 a whistler post

Salah satu band yang paling membuat saya terkaget ria, adalah saat Derai Maksimal beraksi. Betul-betul superbly fascinating, magisnya nuansa psikedelik, nuggets, blues, garage, atau apalah itu sebutannya, menjelma di band ini. Bahkan tak menyangka jika vokalis mereka ternyata adalah gitaris Sharesprings. And I love their music, betul-betul tak tertebak dan unik.

beradu derai maksimal

Beberapa band berikutnya pun menyusul, namun saya terpaksa harus keluar masuk acara karena ihwal konyol, dan harus melewatkan beberapa band tersebut. Meski begitu penampilan band Damascus tak terlewatkan, membawakan 3 materi pribadi, plus sekitar 4 menit noise holocaust. Enggan 'berbunga kata' kepada Damascus, karena bakal terkesan subjektif dan narsis untuk saya ha ha ha.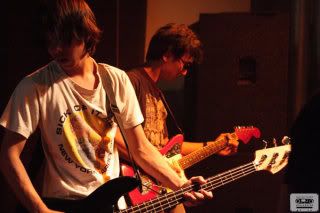 at damascus

Penampil terakhir, tentu saja, Denial, mempersembahkan momen spesial kepada para pengunjung tersisa, betapa noise adalah sebuah hal yang sensual sekaligus artistik. Sekitar 5 atau 6 lagu dibawakan Tony dan Beben cs, dan telinga saya berdengung sesekali. From what I saw, Beben also brought ol' vintage head cabinet Marshall JCM 900 (i guess), plus one violinist and a tambourine mistress. Entah kapan mereka bakal merilis materi mereka secara resmi, a spacerock/noisepop temptation at its well forms. Tak sabar menanti.
denials on tony

Akhir kata, Hit the Switch! adalah sebuah acara keren serta tiket bersahabat, namun sayang sekali dilewatkan oleh mereka yang tidak menghadirinya. Dan teman saya tadi sebutkan sempat mengirim sms sesaat ia sampai di kota gudeg, berujar tak ada band-band seperti acara ini di Yogyakarta, betul-betul fascinatingly cool as noise. Indeed. Marr.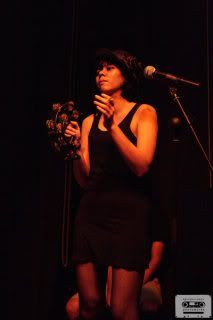 our mistress of noise