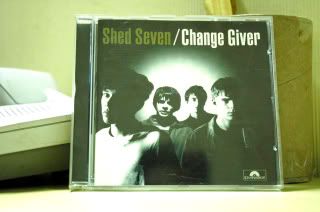 Shed Seven, the underdog Britpop band, lahir di kota York, Inggris, pada tahun 1990 ketika scene musik di daratan Ratu Elizabeth didominasi Madchester dan shoegaze. Baru tiga tahun kemudian band ini berhasil menampakkan diri di kancah musik Inggris setelah momentum meledaknya semangat nasionalis ala Britpop. Ketika genre shoegaze akhirnya tewas dan The Stone Roses mati suri, pada tahun 1994, Shed Seven merilis album debut cukup penting dalam sejarah Britpop, namun

underrated

oleh kritikus musik Inggris.
Empat pemuda, Rick Witter (vokal), Tom Gladwin (gitar bas), Alan Leach (drum), dan Joe Johnson (gitar), yang kemudian digantikan oleh Paul Banks; mengambil pengaruh utama dari The Stone Roses, Happy Mondays, hingga The Rolling Stones, lalu berhasil mendapat
kontrak album pertama dari Polydor Records
, setelah sukses meraih peringkat ketiga pada Battle of the Bands setahun sebelumnya.
Album debut bertitel

Change Giver

akhrnya dirilis dengan beberapa single seperti "Mark", "Casino Girl", dan "Speakeasy" yang berirama

catchy

serta berlirik gamblang dan berhasil menduduki chart lagu di Inggris. Kemudian diikuti "Ocean Pie", sebuah lagu semi psych bluesy Britpop, yang sempat mengundang kontroversi karena liriknya memaparkan ajakan penggunaan drugs. Dominasi riff gitar Banks dan vokal Witter yang lantang dan merayu menjadi warna utama Shed Seven, terutama di lagu "Stars in Your Eyes" dan "Dolphin"

with the intense rock driven riff.
Ironisnya, tidak seperti Blur, Oasis, Suede atau bahkan Menswear, Shed Seven belum pernah mengecap kepopuleran band Britpop papan atas. Sikap media Inggris ketika itu agak menganaktirikan mereka, sehingga band ini tidak pernah mendapatkan cukup publisitas ala NME, Melody Maker dan VOX.

Well

, setidaknya

Change Giver

gave this four lads from York, a chance

untuk meramaikan khasanah musik Britpop ketika itu. The Drowner
Source: I purchased this cd somewhere in Bandung, many years ago... ketika ritual bolak-balik Bandung–Jakarta via kereta api masih mewarnai my previous confusing life.
get the link!
buy it!
(or hunt their last remnant on eBay!)