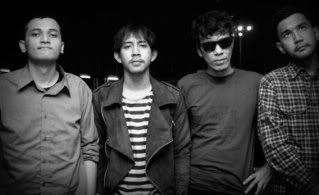 Akhirnya Jimi Multhazam berselingkuh! Tapi tunggu dulu, ini bukan berarti ia bermain api bersama sang istri yang baru ia lamar beberapa bulan lalu. Setelah bertahun sudah ia telah membina keluarga lumayan rukun bernama The Upstairs, sosok ajaib yang selalu menyegarkan benak siapapun dengan lirik-liriknya yang 'terlalu cerdas' ini kembali memanaskan suasana di scene lokal dengan sebuah band bernama Morfem. Morfem? i really dont have any idea bout the name, perhaps you should ask Jimi, it might help your curiosity about Morfem.
Pertama, pria jebolan IKJ ini mendisain band ini sebagai sebuah band Velvet Underground. Mereka sempat beraksi di pembukaan pameran seni dari Jimi di Ruang Rupa, dan saya tak sempat menontonnya, tetapi kata beberapa orang, band ini yah seperti Jimi lagi main band lagi..? What the heck, akhirnya cerita beralih halaman ketika Morfem meluncurkan sebuah singel berjudul 'Gadis Suku Pedalaman', dan secara telaten meracuni jaringan sosial seperti facebook dengan berbagai updates dan postingan berupa mp3 lagu tesebut secara gratis.
Jimi bersama Pandu, Bram, dan Fredi, menampilkan sebuah anomali dari selera musik indie. Anomali? Bisa saya tantang, apakah ada band-band saat ini yang menciptakan sebuah musik yang sangat berbeda dari lainnya? Morfem nekat juga. Terlepas sosok Jimi yang menjadi jaminan mutu band ini bisa memiliki fanbase yang lumayan pada saat tahun pertamanya, Morfem bisa disebut band yang asyik. Orang-orangnya asyik (dimana saya termasuk intim dengan kedua personilnya), dan bisa main musik. Riff-riffnya catchy dan unik, serba 90's.
Pada singel 'Gadis Suku Pedalaman', saya mengendus betapa aroma indiepop/rock digoreng dengan skatepunk/poppunk yang pernah dilakoni Ratcat, bener-bener menyengat di lagu ini. Dan makin enak di telinga ketika Jimi kembali merangkai sebarisan lirik-lirik yang memang menjadi trademarknya. Pernahkah anda mendengar sebuah lirik seperti
'Kini kau berdialog dengan alam raya yang masih perawan
Ku yakin kau menjadi Avatar di sana
Udara yang kau hirup pasti lebih segar dari Jakarta
Titip salam untuk istri mu yang cantik jelita
Dan mertuamu yang sakti mandra guna
Semoga kau dapat menyaksikan kami di sana
Melalui perangkat parabola'
James Cameron, Jimi menyukai filmmu. Dan siapapun diajak berspekulasi. Lagu ini jujur saja, sungguh menarik untuk didengar sebagai sebuah penjelajahan yang halal di tengah antusiasme shoegaze dan postrock yang masih menghangat di sana-sini. Morfem bisa disebut sebagai salah satu jejak band-band lokal yang mulai menatap 90's alternative sounds.
Singel pertama Morfem ini tentu harus berspekulasi apakah khalayak ramai akan mengapresiasi anomali cerdas dari sebuah band bernama Morfem, atau sekadar apresiasi hip hip hura karena ada sang maestro lirik indie bernama Jimi Multhazam yang kembali beraksi. Spekulasi tak cerdas adalah jika ternyata sekadar hip hip hura semata.
Marr
Mo dengar? unduh dibawah ini
.
get the link!